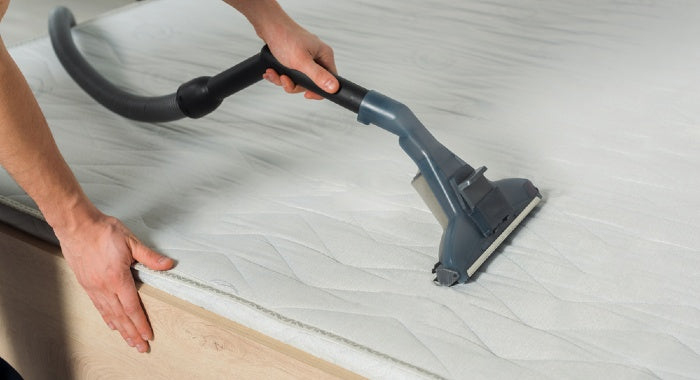 Cleaning a mattress can feel like a big job, but it doesn't have to be. A few simple tools and some patience will leave you with a clean-smelling mattress and peace of mind.
My Favorite Methods
I use basic baking soda (sodium bicarbonate) to freshen our mattresses periodically. The soda actually draws dirt, moisture, and odors out of the fabric surface and the mattress beneath, so it works well even for our latex mattress. It's also a green, safe option, since it uses only basic household ingredients and no harsh chemicals. Here's how to do it:
In the morning, use a kitchen sieve or strainer with a fine mesh, and about a cup of baking soda (or more, depending on your needs). Pour the soda into the strainer and then tap the side to slowly sprinkle the soda over the entire mattress. Treat stained or soiled areas with extra soda.
Allow the soda to remain on the mattress, open to the air, all day long. While you go about your day, the sodium bicarbonate cleans and freshens your mattress.
Vacuum the baking soda from the mattress at the end of the day and allow about an hour for the mattress to air.
This method works for general cleaning and some stains. If you still have stains after using the baking soda method, try these options:
1 tablespoon of dry laundry detergent mixed into 1 quart of cold water to produce suds.
Upholstery cleaner, per package directions.
A home steam cleaner.
A few drops of mild liquid dish soap in warm water. Use this as a last-ditch method, since warm/hot water can actually cook the proteins in a stain and make it harder to remove in the future.
For methods that use liquid solutions, use a clean damp rag to soak up soap, blotting (not scrubbing) until the rag comes away clean. Allow the mattress to dry thoroughly before replacing sheets.
Some mattresses come with washable covers. Read the tags, then remove your mattress cover and wash according to directions if you can. You can use the same cleaning methods on the mattress itself while the cover is in the wash, if necessary.
NOTE: If you're cleaning a latex mattress, be sure to never expose the latex core to direct sunlight, which can break down the cellular structure of the mattress. Dry latex indoors in the shade, never outside.
Do you have a favorite method for cleaning your mattress?
Author Bio: +Michelle Gordon is a sleep expert who researches and writes about sleep and health, and is an online publisher for the latex mattress specialist Latexmattress.org.