Eco Terra Mattress Review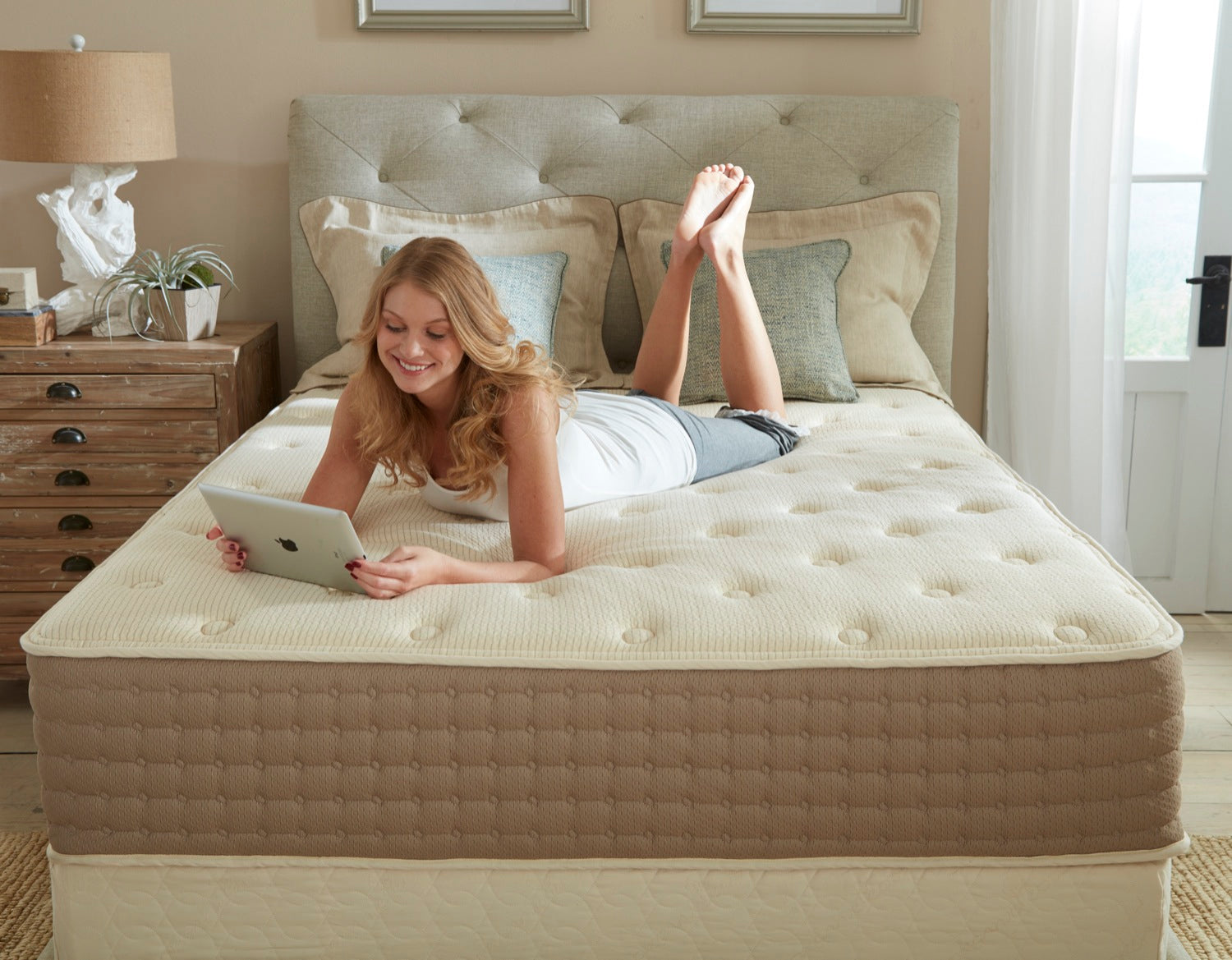 The Eco Terra Mattress by Eco Terra is a nature-inspired mattress made using all-natural materials. Here's a review of its specs and features, including why many sleepers love it.
Eco Terra Hybrid Mattress Description
The Eco Terra Hybrid Mattress is a handcrafted latex mattress made in the USA. It's one of the few toxin-free and eco-friendly mattresses on the market today.
These mattresses are available in two firmness levels; medium and medium-firm. Here's how much they measure and weigh:
The Twin mattress measures 38x75x11 inches, and weighs 59lbs
The Twin XL mattress measures 38x80x11 inches, and weighs 63lbs
The Full mattress measures 54x75x11 inches, and weighs 84lbs
The Queen size mattress measures 60x80x11 inches, and weighs 100lbs
The King mattress measures 76x80x11 inches, and weighs 127lbs
The Cal King measures 72x84x11 inches, and weighs 126lbs
Materials
These mattresses contain three natural materials, namely:
100% natural Talalay latex sourced from sustainable growers
Certified organic wool
Certified organic cotton
The natural latex makes up 73% of the mattresses, while the remaining portion contains 21% organic wool, and 6% organic cotton batting. In addition, the mattresses also contain a support core system made up of quantum coils and food-grade fabric casings.
Features of Eco Terra Mattress by Eco Terra Beds
Here are some key features of the Eco Terra Mattress worth pointing out:
Quantum Coils
Many hybrid mattresses contain weak and saggy metallic innerspring systems. However, that's not the case with Eco Terra Beds mattresses.
These mattresses are constructed with heat-treated and stress-relieved steel coils that don't sag, dip, or break. In addition, the premium quality springs provide adequate edge-to-edge support, making these mattresses last longer than the average hybrid mattress.
Excellent Support
Support is a critical feature of a mattress. It determines your sleep quality and general health. Without sufficient support, you'll likely develop numerous health complications, such as back aches, stiff necks, restlessness, and fatigue. These are some of the problems that Eco Terra's hybrid mattress solves.
Because each coil floats independently, they don't tangle when you exert pressure on the mattress while sleeping. In addition, two-wire gauges add extra support to the springs to ensure they give in just enough to keep your spine in proper alignment. This adds to the responsiveness of latex foam to create a superior support system for your whole body.
Support and Firmness Levels
Selecting the right firmness for a mattress isn't easy for many shoppers, given that it varies from one manufacturer to another. However, most traditional mattresses have similar structures that determine their firmness. For instance, most thick mattresses tend to be softer than thinner mattresses, because they often contain extra layers of soft padding. Unfortunately, this traditional structure affects the support of many mattresses.
Eco Terra's unique structure solves this problem by creating mattresses of the same thickness, but varying firmness levels. The top layers of each mattress contain a seamless layer of 100% natural latex, measuring 3 inches thick. As a result, this structure doesn't compromise the support and firmness of the mattresses.
Breathability
You'll appreciate the sweat-free nights this mattress provides, if you're a hot sleeper. Eco Terra's hybrid mattress allows free flow of air right from its core to the surface.
The individual casing of the steel coils allows each coil to stand independently. As a result, this arrangement improves airflow through the mattress. In addition, the mattress contains natural Talalay latex, best known for its open cell structure and low density that allows air to flow through easily.
Lastly, the cotton batting and wool on the mattress's top layer absorb moisture from the body, leaving the surface of the mattress dry.
Toxin-Free Mattress
Eco Terra doesn't simply mention their hybrid mattress contains eco-friendly materials. They prove it.
Firstly, Eco Terra sources all of their products from a single origin to ensure their materials aren't compromised. Also, as mattress manufacturer, they don't use chemical-based adhesives, fire retardants, or polyurethane while manufacturing the mattresses.
Secondly, as the manufacturer, they prove the authenticity of the materials used in the manufacturing process by placing a legal label on the mattress. The label certifies that the product description is up to code, and doesn't contain any misleading information. Therefore, you can rest assured that the mattress is truly natural, and free of toxins.
Soothing Comfort
This hybrid mattress beats ordinary mattresses when it comes to comfort, thanks to its soft organic cotton cover. The cotton cover is easy on the skin; it lets you smoothly glide, while turning on the mattress, as it cuddles the pressure points.
The surface of this hybrid mattress also contains organic wool that acts as a fire retardant. However, the wool also adds to the soothing comfort of the mattress. Because wool wicks and locks moisture into the core of its fibers, its surface stays dry and soft during hot nights. In addition, wool keeps you warm during cold nights, keeping you comfortable all year round.
Pros of Purchasing an Eco Terra Mattress
Purchasing a mattress online comes with numerous challenges. For this reason, Eco Terra ensures that you appreciate the benefits and safety of shopping online. Here are the pros of buying a mattress for Eco Terra Beds.
Free Shipping and Returns
You don't have to worry about the costs of shipping your new mattress from California to your destination. Eco Terra offers free shipping in the US. In addition, the company also caters to return shipping costs.
90 Sleep Trial Nights
Three months (or 90 nights) is sufficient time to try out your new mattress before deciding whether or not it satisfies your sleep needs.
Long-Lasting Warranty
This mattress has a 15-year warranty, covering manufacturing defects, and some repairs.
Financing Options
If you need a high-quality hybrid mattress but can't afford one at the moment, you don't need to worry. Eco Terra provides its clients with a 0% APR financing option using Klarna to pay for their mattress conveniently with flexible monthly payments.
No Off-Gassing Chemicals
This mattress is free of toxins. Therefore, you won't experience unpleasant off-gassing odors after unboxing. In addition, you can sleep on your new mattress immediately after it expands completely.
Doesn't Need Frequent Flipping
Unlike traditional mattresses, you don't need to regularly flip your Eco Terra Hybrid Mattress. This is because the premium quality of natural latex and quantum coils make the mattress strong and durable.
Usable with an Adjustable Bed
You can use your new Eco Terra Hybrid Mattress on an adjustable base for all standard sizes.
Cons of Purchasing an Eco Terra Mattress
On the downside, the Eco Terra's hybrid mattress comes with a high price tag. However, it's worth the investment, given that it lasts twice longer than a regular hybrid mattress, and contains natural materials. Besides, Eco Terra offers a flexible payment plan through Klarna, helping you sleep on a top-rated mattress without worrying about the price.
The Bottom Line
As discussed in this review, the Eco Terra Mattress has many unique features that tell it apart from ordinary hybrid mattresses. It's an all-season mattress that keeps a sleeper cool during hot nights and warm during cold nights. In addition, because of its unique structure, this mattress is strong, durable, and has long-lasting edge support.
Eco Terra Beds ensures that you have the best experience shopping for your mattress online. You'll enjoy free shipping, returns, and convenient payment options.
Lastly, the mattress has a long-lasting warranty, and a 90-night free trial period, giving you all the time you need to decide whether it is the right mattress for you.
Is an Eco Terra Mattress Ideal, and Worth the Investment?
Absolutely. This mattress is worth the investment, judging by its unique structure, materials, durability, and functionality.