Latex For Less Mattress Review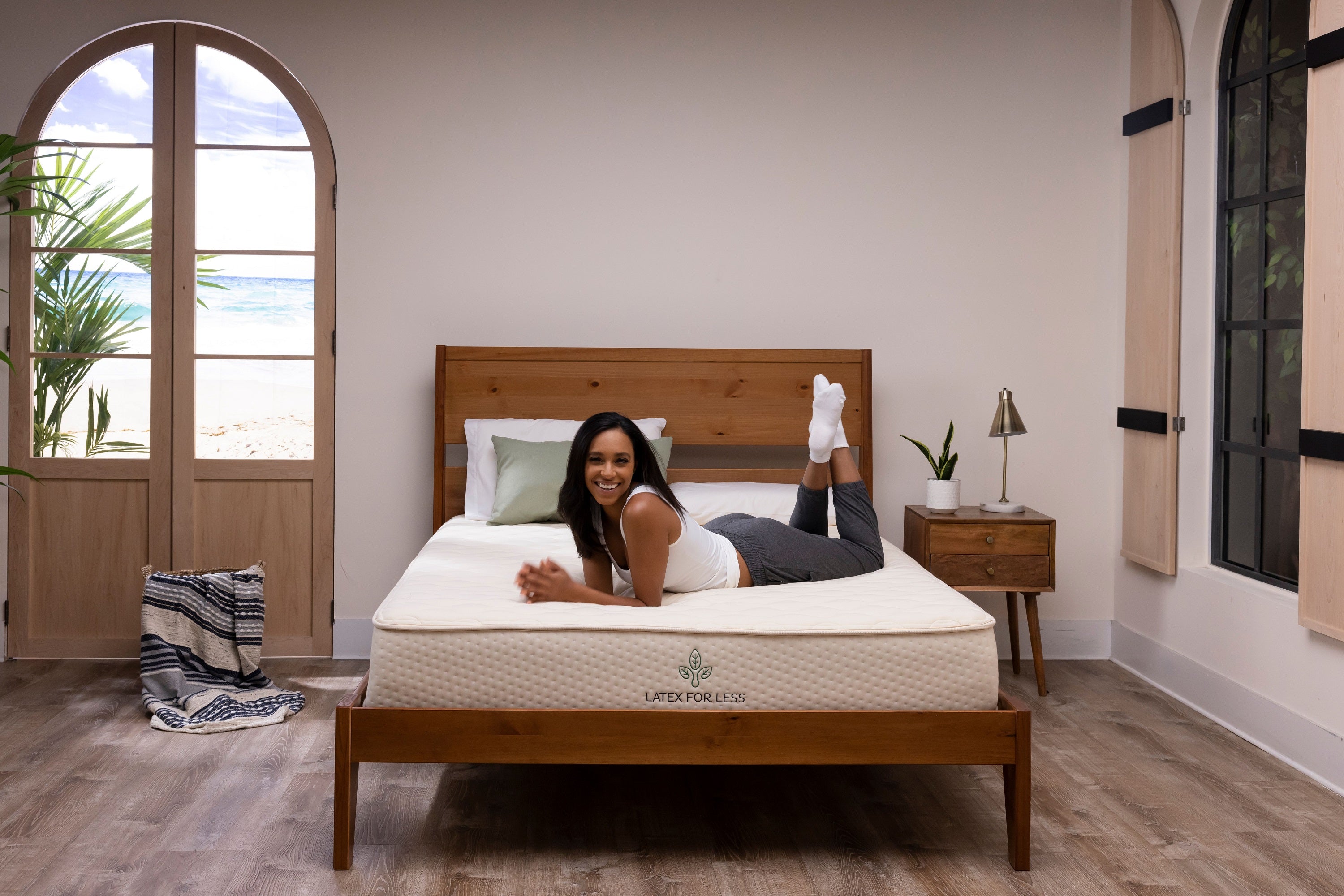 Latex mattresses have risen in popularity over the last few years primarily because of their sleep-related benefits. Here's a review of the latex mattress from Latex For Less, covering what to expect when you purchase this mattress. So without further ado, let's dive into the details.
Latex For Less Mattress Description
The latex mattress from Latex For Less is a top-quality mattress made from 100% natural latex, organic cotton, and pure, natural wool.
Construction and Materials
You can either choose the 7-inch or the 9-inch latex mattress. Here is a breakdown of what each mattress contains:
The 9-inch Latex For Less Mattress contains:
Organic cotton cover certified by the GOTS
1/2 inch of 100% natural wool
6 inches of 100% organic Dunlop latex
2 inches of 100% natural Talalay latex
1/2 inch of 100% natural wool
The 7-inch Latex For Less Mattress contains:
Organic cotton cover certified by the GOTS
1/2 inch of 100% natural wool
6 inches of 100% natural Dunlop latex
1/2 inch of 100% natural wool
Measurements
The Latex For Less Mattress is designed to suit almost every bed or room. Let's take a look at some of the key measurements in inches:
The twin mattress measures 38" x 75"
The twin XL mattress measures 38

"

x 80

"

The full mattress measures 54

"

x 75

"

The queen mattress measures 60

"

x 80

"

The king mattress measures 76

"

x 80

"

The cal king mattress measures 72

"

x 84

"
Key Features of the Latex For Less Mattress
Some of the most significant features of this organic, American-made mattress include:
Flippable
Most mattresses only have one good side to sleep on, but things are different with the Latex For Less Mattress. This latex mattress is flippable, meaning you can sleep on either side. Both sides are uniquely designed to accommodate your sleeping needs, with a different firmness on each side. In fact, having a flippable mattress means investing in one mattress for the price of two.
Two Firmness Levels
When you purchase a new latex mattress, you're never sure what to expect regarding the firmness levels. The mattress' description may not be enough to give you an idea of exactly how this mattress feels. But that's not something you should be worried about when you buy the Latex For Less Mattress. It comes with two firmness levels, meaning if one side does not meet your expectations, you always have the option to try the other side. So, whether you're looking for a firm or a medium-firm mattress, you'll get both of these options in one mattress!
Luxurious Comfort
The Latex For Less Mattress is one of the most comfortable mattresses you'll ever sleep on. The combination of luxury and comfort is what makes this mattress stand out. To put things into perspective, sleeping on this mattress gives you a five-star hotel feeling, thanks to the luxury and comfort it comes with.
Superior Support
Many sleepers struggle with various sleep problems, such as pain in the lower back, neck, shoulders, and other body parts. In fact, did you know that sleeping on the wrong type of mattress could damage your spinal alignment? That's one of the major problems the Latex For Less Mattress solves. This high-quality organic latex mattress is designed to provide superior support for sleepers, and guarantee long hours of safe, uninterrupted sleep.
Eco-Friendly
Environment conservation has become a top priority in the manufacturing industry in recent years. This is because many products damage the environment after being utilized by consumers. For this reason, the introduction of latex mattresses has changed how mattresses interact with the environment when the sleeper finally gets rid of them.
For example, the Latex For Less latex mattress is biodegradable because it is made from organic latex. As a result, you don't need to worry about the mattress damaging the environment when it's finally time to get rid of it. Instead, the mattress decomposes back into the environment, and blends into the ecosystem.
Fire Resistant
What's the first thing that comes into your mind when you think of fire and a mattress? Before latex mattresses, most traditional mattresses were among the most combustible products in many households across the country. But that's not something you should worry about when you invest in this Latex For Less Mattress, since it is made with a 100% natural wool fire barrier.
Temperature Regulation
The Latex For Less Mattress also helps solve one common problem many sleepers struggle with - sleeping hot and cold. If you're a hot sleeper, you won't need to sleep with your windows wide open, and the AC turned on when you invest in this mattress. It has a unique ability to regulate its temperature based on its surroundings. In hot environments, it helps cool the body, and in cold environments, it generates enough heat to keep the sleeper warm throughout the night.
Pros of Buying the Latex For Less Mattress
Besides the unique features we've discussed above, buying the Latex For Less Mattress comes with additional benefits. The most notable benefits include:
Long-Term Warranty
These latex mattresses are designed to last more than 20 years, meaning you won't have to worry about buying a new mattress anytime soon.
Manufactured in the USA
This is done to ensure the highest quality possible, and help build the American economy by creating numerous employment opportunities, and paying taxes.
Extended Sleep Trial Period
You have up to 120 nights to decide whether this latex mattress is what you're looking for. To put things into perspective, most latex mattresses have a 30-night sleep trial period on average. 
Free, Convenient Shipping
The Latex For Less Mattress is shipped in a box, allowing the manufacturer to ship more mattresses to different buyers simultaneously. This shipping policy further explains why Latex For Less offers free shipping.
Free, Convenient Returns
If you don't like the mattress, you can always return it, at no cost to you, and receive a full refund. Latex For Less will pick it up at your preferred location.
Cons of Buying the Latex For Less Mattress
Every good product has a bad side. Here's what you probably won't like about this eco-friendly mattress:
Weight
Latex mattresses are heavier than traditional coil mattresses. However, you can buy online and it will ship to your home for free, in a box for easy handling.
Expensive
Organic latex mattresses are pricier than most traditional mattresses. However, the price is justifiable given the many sleep-related benefits this mattress provides. Besides, thanks to the 20-year warranty, investing in this kind of mattress saves you money.
Conclusion
There's no doubt that the Latex For Less Mattress is a high-quality mattress that solves different problems simultaneously. This mattress is not only good for your sleep, but also for the environment.
In a world where many people spend thousands of dollars trying to find the solution to their sleep-related problems, sleeping on a latex mattress solves almost half of these problems. This biodegradable mattress comes with a cloud-like feeling, and body-hugging comfort, guaranteeing a peaceful night's sleep.
Verdict: Is the Latex For Less Mattress Worth It?
Absolutely! If you care about your health, and that of your loved ones, this organic latex mattress is completely worth the investment.