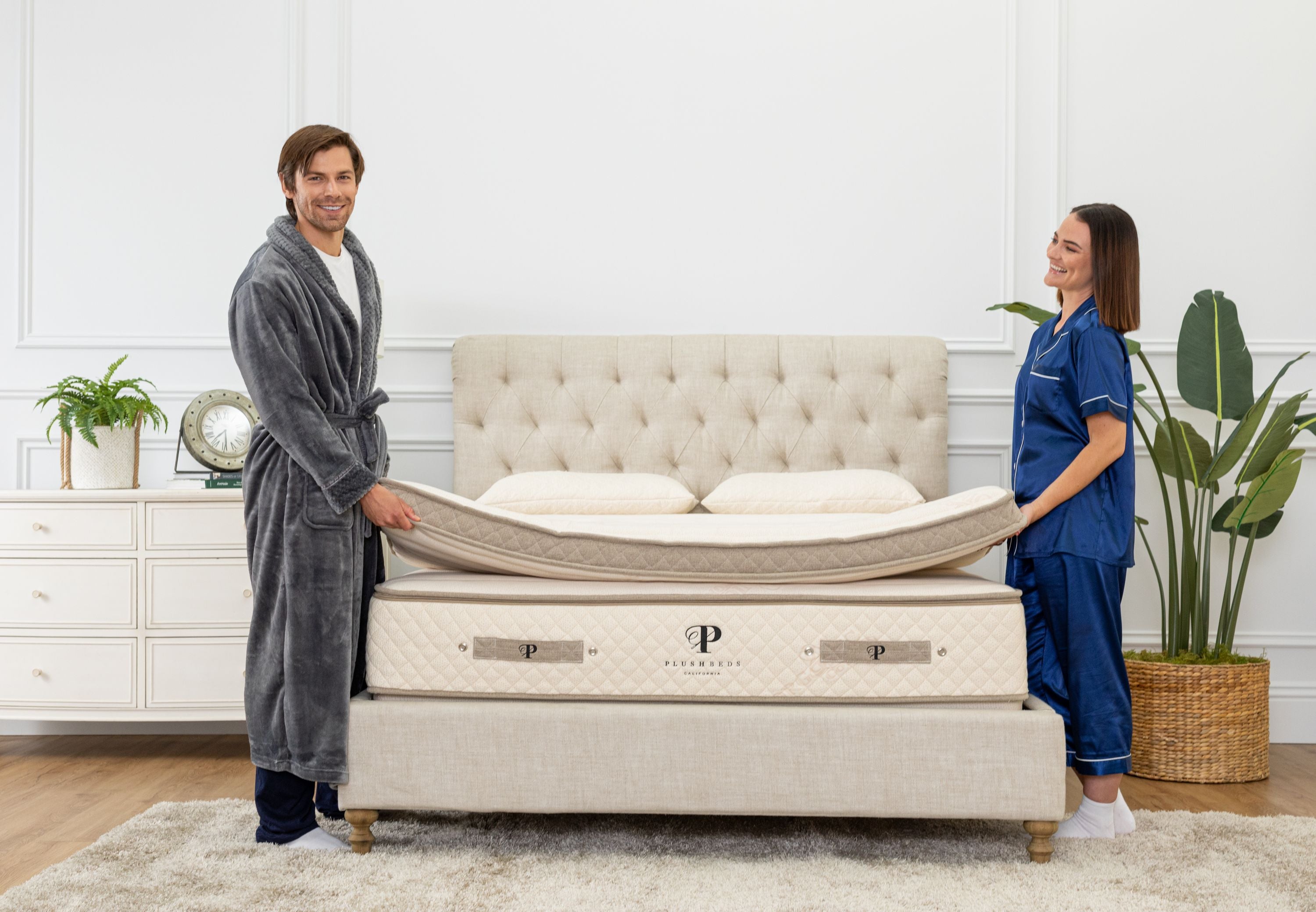 PlushBeds is home to several high-end sleep accessories, including mattresses, bedding, pillows, and toppers. This PlushBeds topper review focuses on their toppers, analyzing their features, and comparing their performances to help you choose the ideal one. 
PlushBeds Toppers
Currently, PlushBeds has six mattress toppers on the market. These include:
Natural Latex Topper
PlushBeds Natural Latex Topper contains natural latex. This topper is free of chemical dyes, bleaches, synthetic blends, or fillers, keeping it 100% natural. It also has a separately sold topper cover made of certified organic cotton.
Key Features
The key features of PlushBeds natural latex topper include:
100% Natural Talalay Latex
Not all Talalay latex toppers are 100% natural. This is because some manufacturers introduce petroleum-based additives and chemicals into the latex at different processing stages. As a result, their final products don't qualify as purely natural, and can easily trigger allergic reactions in chemical-sensitive sleepers.
To avoid chemicals and other harmful toxins, PlushBeds gets its Talalay latex from sustainable sources. This ensures its latex for its mattress toppers remains pure right from the source to the factory. As a result, these latex toppers don't contain harmful pesticides, beaches, chemical dyes, or chemical retarders, among other toxins.
Five Firmness Levels
PlushBeds natural Talalay mattress topper offers sleepers five firmness choices. This beats most toppers on the market, which only offer one or two firmness options.
The mattress toppers are available in Soft, Medium-Soft, Medium, Medium-Firm, and Extra-Firm levels of firmness. To select your ideal firmness level, consider your sleep needs. For example, choose Soft to Medium mattress toppers if you need more cushioning and pressure relief. On the other hand, if you need more support, the Medium and Medium-Firm mattress toppers work best. And, if you're over 240 lbs, or prefer sleeping on firm surfaces, the Extra-Firm mattress topper is a great choice.
Two Thickness Options
This topper is available in two and three-inch thicknesses. The two-inch adds more support to your bed, but allows you to feel your latex mattress below. On the other hand, the three-inch mattress topper adds cushioning and support to your latex mattress to make it plusher.
Additionally, it prevents you from feeling the mattress underneath, ideal for totally transforming how your existing mattress feels, without buying a new mattress.
Organic Quilted Latex Topper
The Quilted Organic Latex Topper is a luxurious four-inch topper, consisting of organic latex and wool. This topper promotes a rejuvenating sleep experience, thanks to its unique features.
Key Features
The unique features of the organic quilted latex topper include the following:
Organic Materials
If you're looking for a luxurious organic mattress topper, you'll appreciate this quilted topper. It consists of three high quality organic materials: cotton, British wool, and latex.
The latex forms the topper's supportive core because of its strength and durability. The wool makes up the topper's comfort layer, and acts as a fire barrier. Lastly, the topper has a soft cotton cover that improves breathability, soothes the skin, and complements its luxurious feel.
Firmness Levels
This latex mattress topper is available in Soft, Medium, Medium-Firm, and Firm levels of firmness. Each of these toppers is designed for different groups of sleepers with varying sleep needs.
The Soft organic quilted topper best suits side and back sleepers who prefer a body-contouring sleep surface. This latex mattress topper cushions the shoulder to prevent shoulder pain, including the neck and hips to ease pressure buildup, while supporting the back to align the spine correctly while sleeping.
Four-Inch Thickness
The average mattress topper on the market measures three inches in thickness. However, PlushBeds quilted natural latex topper is an inch thicker. This feature sets the topper apart from the rest in terms of performance.
The topper's core consists of a three-inch thick latex foam. As a result, it gives sleepers generous support that mimics PlushBeds' Botanical Bliss Mattress. Additionally, the topper helps reduce sleep discomforts, such as lower back pain triggered by unsupportive sleep surfaces.
The topper's comfort layer makes up the remaining inch with 2 ounces of organic wool, and a thick organic cotton cover. This supportive layer is sufficient for pressure point relief, relieving pain, and promoting rejuvenating sleep.
Handmade Natural Wool Topper
The Handmade Natural Wool Topper offers exceptional comfort every night. It contains 100% natural wool, carefully crafted for superior comfort and premium quality.         
Key Features
The Topper's key features include:
100% Pristine Wool
PlushBeds uses ethically-sourced virgin wool to avoid introducing chemicals and toxins to the topper. As a result, the topper is of top-quality, long-lasting, and ideal for chemical-sensitive sleepers.
Besides its premium quality, virgin wool has many advantages. For example, it absorbs sweat and moisture from the surface of the topper, leaving the air around your skin cool and dry during hot, sweaty nights, which is perfect for hot sleepers. When the night is cold, the wool traps heat within its layers to keep you warm. As a result, you can use this topper throughout the year, thanks to its temperature regulation capabilities.
Three-Inch Thickness
Sleeping on three inches of a natural wool topper is a one-of-a-kind experience. This topper cradles contact points to relieve pressure, and ease body aches and pains. Additionally, it promotes longer REM sleep cycles because of its soothing and temperature-regulating abilities. Although the topper is buoyant, its thickness sufficiently supports the sleeper's body to keep the spine correctly aligned.
Handmade Topper
PlushBeds natural wool topper is made by hand for comfort and exemplary quality. Skilled craftsmen tuft and stitch each topper to prevent the wool from clumping up on one side. As a result, the topper remains evenly thick, enabling it to spring back into shape after use. 
400 Thread Count Certified Organic Cotton Sateen Cover
The organic cotton cover is more than a mattress topper cover. For example, it has a 400 thread count, giving it a soft feel, and a soothing sensation on the skin. Additionally, this cover is hypoallergenic, and free of chemicals and harmful toxins. As a result, this dust-mite resistant topper is safe for sensitive sleepers, as it doesn't trigger allergic reactions.
Down Alternative Mattress Topper
The Down Alternative Mattress Topper is a vegan topper containing ultra-fine fibers with high fill power. It is plush and cozy, making it the ideal topper for sleepers seeking pressure relief.
Key Features
The key features of the down alternative mattress topper include:
Ultra-Fine Microfibers
This topper contains ultra-fine microfibers that mimic airy-light down feathers. As a result, it feels fluffy and buoyant, enabling it to cushion a sleeper's contact points, and ease pressure buildup. Additionally, the fibers improve air circulation around the topper to keep the sleeper cool and comfortable all night.
100% Cotton Twill Cover
This topper has a cotton twill cover that gives it a luxurious appeal. In addition, the cover improves air circulation around your body, keeping you cool during hot nights, and warm during cold nights.
Box Stitch Design
The topper's box stitch design helps keep the fibers in place, improve breathability, and maintain a consistent loft throughout its surface.
Three Inches Thickness
This three-inch topper offers sufficient loft for cradling and cushioning the body, exactly what you need for a good night's sleep.
Memory Foam Mattress Topper
PlushBeds Memory Foam Topper consists of patented memory foam to keep sleepers cool and comfortable. It comes in different sizes, thicknesses, and densities, giving sleepers a broad selection scope.
Key Features
Here are the key features of this memory foam mattress topper.
Patented Memory Foam
Memory foam is best known for its pressure-relieving properties. On the downside, it's also known to trap heat, and cause a sleeper to feel excessively hot and uncomfortable. But that's not the case with PlushBeds patented memory foam.
Thanks to its open-cell viscoelastic structure, the PlushBeds memory foam topper dispatches heat from a sleeper's body to keep them cool. This design also gives the topper consistent density and responsive support that most conventional mattresses lack.
Two Density Choices
The density and thickness of a mattress topper play a significant role in determining its firmness and support. For this reason, the PlushBeds memory foam topper is available in two densities and thickness options.
The 4 lb mattress topper is soft and cushiony, making it a great choice for sleepers seeking relief from pressure. On the other hand, the 5.3 lb option is firmer, and best for sleepers looking to add more support to their mattresses.
On the other hand, the two-inch thick mattress topper is ideal for petite sleepers, while the three-inch thick topper is for heavier sleepers.
Cooling Gel Infused Memory Foam Topper
If you appreciate the pressure-relieving ability of memory foam, but dislike sleeping hot, the Cooling Gel Memory Foam Topper is ideal for you.
Key Features
This topper has the following notable features:
Cooling Gel-Infused Memory Foam
Gel-infused memory foam has gel microbeads that enable the mattress topper to dispatch body heat to keep a sleeper cool.
No Harmful Gasses or Odors
Unlike conventional memory foams, this topper doesn't emit smelly or harmful gaseous chemicals. Therefore, you don't have to air out your topper for several hours before using it, or worry about chemical sensitivity or reactions, such as breathing difficulties and skin irritation.
Pressure Relieving Foam
The cooling gel memory foam relieves pressure by contouring a sleeper's body, while supporting their spine. Additionally, the foam feels soft and easy on the skin, making the sleeper cozy and comfortable.
Comparison of PlushBeds Toppers
PlushBeds mattress toppers are high-quality, and solve multiple sleep and comfort needs. Here is how these six toppers compare in performance.
Pressure Relief
All six mattress toppers are good at pressure relief. However, the cooling gel mattress topper takes the upper hand in this category. This is because of its patented memory foam that contours the body, and cushions pressure points. Additionally, it immediately springs back to its original shape to avoid sagging and dipping.
Luxurious Comfort
The natural wool and down alternative toppers are excellent options, if you're looking for luxurious comfort. These toppers are soft, breathable, and cuddly. As a result, they ease pressure points, keep you cool, and soothe you to fall asleep faster.
Superior Support
If your mattress triggers lower back pain, it may be because it doesn't support you adequately. In that case, you need a supportive mattress topper, such as PlushBeds natural latex, or quilted organic latex topper, to solve this problem. These toppers contain latex foam, best known for being responsive and resilient.
Temperature Regulation
All PlushBeds toppers have temperature-regulation properties. This is because they contain breathable materials, such as latex, wool, cotton, and gel memory foam.
Durability
PlushBeds quilted organic latex and natural latex toppers come with a five-year warranty. However, these toppers can last up to 20 years, approximately five times longer than conventional mattress toppers.
Pros of Purchasing a PlushBeds Topper
Buying PlushBeds mattress toppers has many advantages. For instance, the toppers:
Are available in a wide variety
Are high quality and reasonably priced
Solve multiple discomfort issues simultaneously
Have various purity certifications, including Global Organic Latex Standard, Global Organic Textile Standard, and GreenGuard Gold
Come in many standard sizes.
Cons of Purchasing a PlushBeds Toppers
Mattress toppers are personal bedding items. For this reason, you can't return your PlushBeds mattress topper.
Bottom Line
A mattress topper is perfect for fixing a functional, but uncomfortable mattress. For example, you can use a thick, Medium-Firm mattress topper to make your latex mattress more supportive, soft, and cuddly. However, there are several factors you must consider when shopping for a mattress topper. These include the topper's materials, thickness, firmness, and design.
PlushBeds eases your shopping experience by offering six mattress toppers to select from. These GreenGuard Gold certified toppers come in all shapes and forms, and solve multiple sleep discomfort issues. So, whether you need more support, pressure relief, temperature regulation, or even more, you'll find the perfect choice at PlushBeds.
Are PlushBeds Mattress Toppers a Worthwhile Investment?
A resounding yes! These mattress toppers are high performing and long-lasting.