Top 5 Hybrid Latex Mattresses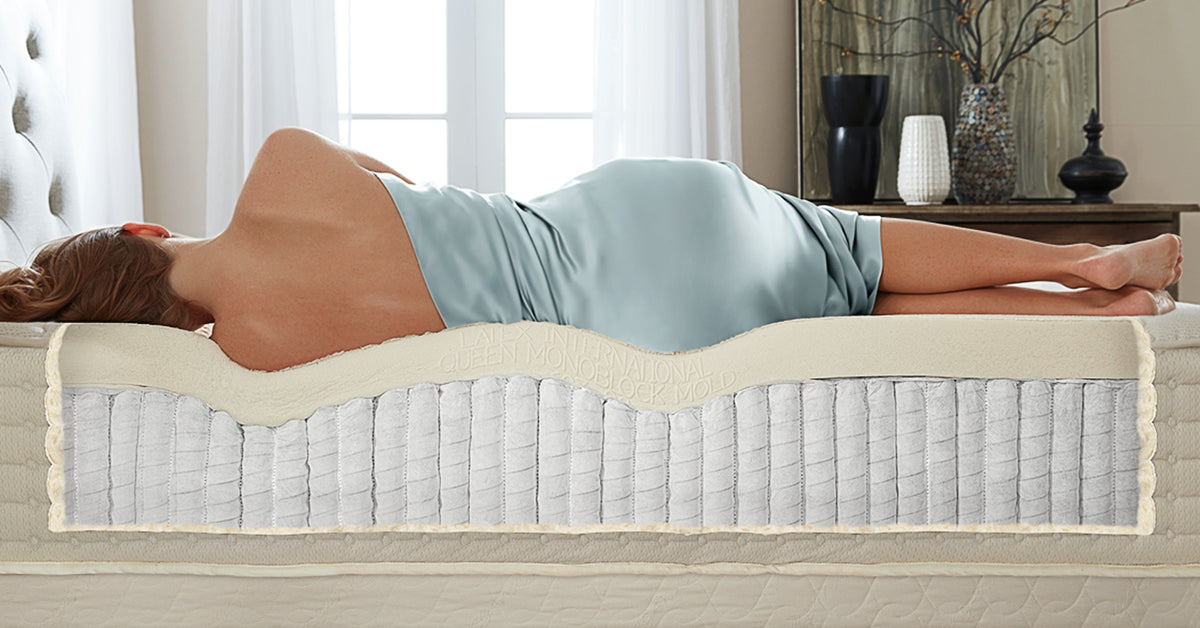 Hybrid latex mattresses combine the best of latex foams, and the traditional innerspring mattress systems, resulting in ultimately comfortable and supportive mattresses. For this reason and more, these mattresses have rapidly grown in popularity.
However, finding the best latex hybrid mattress may be tedious, due to the varying designs, materials, qualities, and mattress brands. Fortunately, you have nothing more to worry about, if you face a similar problem. This article reviews the top five latex hybrid mattresses to make your selection easier. It analyzes the key features of these mattresses, and how best they suit your sleep needs.
Here's what to expect in this review of the best latex hybrid mattresses in the market.
PlushBeds Luxury Bliss

- Best Organic Hybrid Mattress

Eco Terra Beds

- Best Value Hybrid Mattress

Ergovea Pasadena Organic Hybrid -

Best Hybrid Luxury Latex Mattress

Latex For Less Hybrid Mattress

- Best Hybrid Mattress For Back Pain

PlushBeds Eco Bliss

- Best Budget Option
In addition, we also present:
Topics of Interest:

Mattress description, key features, suitability, shipping and warranty information, and whether the mattress is worth its value.

Factors to consider:

When shopping for the best hybrid mattress.

FAQs:

Pertinent questions answered.
1. 
PlushBeds Luxury Bliss - Best Organic
Product Description                    
PlushBeds' Luxury Bliss is a US-made organic latex hybrid mattress, containing 100% natural latex, cotton, and wool. This mattress also features premium quality fabric-encased coils for buoyant support, and 12 European vents to enhance breathability.
Because this mattress is organic, it doesn't contain harmful chemicals that cause allergic irritations to sensitive sleepers. In addition, PlushBeds sources its materials from the world's finest suppliers to avoid contamination. As a result, the mattress has attained numerous quality and purity certifications, including GOTS, GOLS, GREENGUARD GOLD, and ECO-INSTITUT.
The Luxury Bliss mattresses come in different sizes and firmness levels. For instance, they are available in the Cal King and Split King sizes for sleepers who prefer large beds. Additionally, sleepers can buy a Medium or Medium-Firm mattress, or contact the manufacturer to customize their desired mattress firmness.
Lastly, this luxurious mattress is 12 inches thick with an 8-inch support core, a 3-inch comfort layer, and a 1-inch organic cotton cover.
Key Features
Some of the noteworthy features of PlushBeds Luxury Bliss include:
100% Natural Talalay Latex Comfort Layer
Talalay latex foam has many advantages. For example, the soft buoyant feel contours and relieves pain from pressure points, such as the shoulders and hips. Additionally, the foam prevents sleepers from sinking deep into the mattress, all thanks to its responsiveness to pressure.
In addition, Talalay latex foam naturally regulates your body temperature while you sleep, because of its cooling and insulating abilities. As a result, the cooling mattress feels warm during the cold seasons, and cool during the hot seasons, guaranteeing cozy sleep every night. Talalay latex foam is a great material for a best cooling hybrid mattress.
Fabric-Encased Supportive Coils
The premium fabric-encased coils provide unrivaled support throughout the mattress to ensure your spine aligns well while you sleep. The coils also reduce motion transfer, and provide adequate edge support to prevent you from falling off your bed.
Besides support, the premium coils improve air circulation around the mattress to avoid trapping heat from your body. This results in a peaceful and uninterrupted sleep experience, promoting a healthier lifestyle.
12 European Air Vents
With PlushBeds Luxury Bliss, you can finally say goodbye to hot, sweaty nights. This mattress has an inbuilt ventilation system, a feature that's hard to find in other regular hybrid latex mattresses. As a result, the mattress feels cool and cozy.
Heavy Duty Handles
Moving or repositioning a mattress can be a difficult task. But that's not the case with the Luxury Bliss.
PlushBeds fits each mattress with heavy-duty handles that make gripping, lifting, and moving the mattress much more manageable.
Ultra-Soft Organic Cotton Cover
Just as its name suggests, the Luxury Bliss is all about luxury. The ultra-soft and chemical-free cotton cover soothes the skin, absorbs moisture, and improves airflow around your body.
In addition, this cover has a circular knit design to enhance pressure relief on the hips and shoulders. This design also improves the cover's elasticity, allowing it to stretch without forming wrinkles while you change your sleeping positions.
Organic Wool Fire Barrier
The organic wool fire barrier prevents the mattress from burning, and spreading flames in case of a fire accident. In addition, this layer has many more advantages, including enhancing airflow, promoting deep sleep, and adding more cushioning to the mattress.
Suitable For
This cooling hybrid mattress is ideal for sensitive sleepers, because of its all-natural materials. However, its unique features attract different types of sleepers. For instance, the inbuilt ventilation system makes the mattress ideal for hot sleepers. In addition, its pressure-relieving features and exemplary support core makes it a great mattress for side sleepers. It is also a great mattress for back pain relief.
Warranty and Shipping Information
PlushBeds provides three delivery options for this mattress. The first option is free delivery within the Contiguous United States, and a discounted shipping cost to other areas.
Alternatively, you can request a trained professional to unpack and set up the mattress at your home for a small fee. In addition, the trained professional may also help you with removing and recycling your old mattress, also at a small fee.
Because of its durability, the Luxury Bliss has a lifetime warranty covering manufacturing and structural defects, making the mattress worth the investment.
Payment Options
PlushBeds has a flexible payment option, without any hidden fees. If you're eligible, you can pay for your mattress over 6, 12, and 18 months, depending on the mattress price
Is it Worth It?
The payment options make it even more convenient for sleepers to buy this mattress, while the lifetime warranty, durability, and performance say everything you need to know about its value. So, yes, this best luxury latex mattress is absolutely worth every coin you spend on it, which is why it has made the top of the latex mattress reviews list.
2. 
Eco Terra - Best Value
Product Description
Eco Terra Beds Hybrid Latex Mattress is handcrafted in the US using sustainable organic materials. But, unlike most organic mattresses, this nature-inspired mattress doesn't cost a fortune.
The hybrid mattress contains certified organic latex, cotton, wool, and a supportive core made of specially-treated coils. Additionally, this green mattress doesn't contain harmful toxins found in chemical-based adhesives, synthetic foams, and flame retardants.
These hybrid mattresses come in six sizes, 11 inches of thickness, and two firmness levels (Medium and Medium-Firm).
Key Features
Let's briefly discuss some of the most significant features of the Eco Terra Beds Hybrid Latex Mattress.
A 3-Inch Seamless Natural Latex Layer
This latex hybrid mattress consists of a seamless layer of natural latex foam, instead of multiple layers glued together in place. As a result, the manufacturer avoids using toxic adhesives to stick the layers in place. It also prevents the mattress from breaking down faster, by avoiding friction between multiple layers.
Eco Terra Beds also sources its latex from a single sustainable supplier, to ensure it is uncontaminated, and free of chemical and synthetic latex blends. As a result, the mattress is safe for sensitive sleepers and the environment.
Besides, natural latex is known for numerous other benefits, such as temperature regulation, durability, and responsive support.
Quantum Coils
The quantum coils are a unique feature that sets this mattress apart from other hybrid mattresses on the market. These coils are heat-treated and stress-relieved to provide long-lasting support to a sleeper. Additionally, each coil is encased with a food-grade fabric, allowing it to move freely, while responding to pressure from different sections of the mattress. As a result, the mattress perfectly contours a sleeper's body, while providing adequate support for proper spinal alignment, preventing and managing spinal injury.
Organic Cotton Cover
Cotton covers are a common feature of many mattresses. However, this cover is different, because it doesn't contain chemical dyes, blends, or toxins that can compromise its quality.
In addition, the cover's pristine quality feels soft to the touch, and quickly soothes you to sleep.
Organic Wool
Beneath the cotton cover is a layer of organic wool that acts as the mattress' fire barrier. However, this wool further makes the mattress feel softer and cozier. In addition, it wicks moisture, and improves airflow around your body.
Legal Label
Some mattress manufacturers don't disclose the contents of their mattresses to their customers, making it difficult to make an informed decision. Fortunately, that's not the case with this latex hybrid mattress.
Eco Terra Beds attaches a legal label on their mattresses, bearing all the information about the contents. The label indicates that the mattress consists of 73% natural latex, 21% wool, and 6% organic cotton.
By sharing this information, the company ensures you make an informed decision when shopping for a hybrid mattress. It also proves that the mattress doesn't contain synthetic blends and harmful chemicals.
Available in Many Sizes
These latex hybrid mattresses are available in the most common standard sizes to ensure they're compatible with many beds. When shopping online for one of these mattresses, you can choose from the Twin, Twin XL, Full, Queen, King, and Cal King sizes.
Additionally, these hybrid mattresses are 11 inches thick, providing sleepers with the perfect bed height. And, they come in two firmness levels, Medium, and Medium-Firm, to ensure that you select the most comfortable mattress.
The Medium mattress has an indentation load deflection (ILD) of 24-26, while the Medium-Firm mattress has an ILD of 29-31. Despite this difference, these latex hybrid mattresses contain the same 3-inch seamless latex foam and support system. However, the Medium mattress best suits sleepers who need more cushioning, while the Medium-Firm mattress is best for sleepers seeking more support.
Suitable For
This hybrid mattress may be a good option if you're looking for a natural latex hybrid mattress on a budget. It combines nature's best products, and also avoids chemicals and blended materials. However, it comes with a lower price tag than most organic mattresses.
Shipping and Warranty Information
Eco Terra Beds latex hybrid mattress has a 15-year warranty covering manufacturing defects. The company repairs the mattress at a production facility of their approval, or replaces it with a similar product.
The best part is that Eco Terra Beds offers free shipping and returns throughout the US, making the purchasing experience hassle-free.
Is it Worth It?
Absolutely! The prices of these latex hybrid mattresses are relatively fair compared to many organic latex mattresses. Yet, the quality and performance of the mattress are just as good, making it a solid choice for the best latex hybrid mattress.
Additionally, the manufacturer takes care of the shipping costs, so you don't have to worry about extra charges.
3. 
Ergovea Pasadena Organic Hybrid - Best Luxury
Product Description
Ergovea Pasadena Organic Hybrid Mattress is an 11-inch luxurious mattress containing organic materials. This mattress is specially crafted for comfort, and is available in Medium firmness, and six sizes, namely: Twin, Twin XL, Full, King, and Cal King.
The mattress features 8-inches of fabric-encased coils in its support core, and a 3-inch comfort layer made of organic latex. In addition, this mattress has a neatly finished organic cotton cover for the final luxurious touch.
Key Features
The Pasadena Organic Hybrid Mattress consists of the following key features:
Certified Organic Materials
Ergovea's Pasadena Organic Hybrid mattress contains organic rubber and cotton that pass the Oeko Standard 100 purity test, eliminating any harmful substances that may compromise the quality of the mattress. The mattress also has a GREENGUARD GOLD certification, proving that it doesn't emit harmful VOC gasses and irritating odors.
Because of its organic contents, this best luxury latex mattress promotes good health by significantly reducing the chances of chemical allergies, such as skin and eye irritations. Additionally, purchasing this mattress promotes a healthy environment, since all the organic materials are biodegradable and sustainably-sourced.
Available in Six Standard Sizes
When shopping for a mattress online, you must find the right fit for your bed. However, that's not always easy, especially if you're unfamiliar with interpreting the dimension measurements.
The good news is you don't have to measure anything before you buy Ergovea Pasadena Organic Hybrid mattresses because they are available in six standard bed sizes. They include the Twin, Twin XL, Full, Queen, King, and Cal King sizes.
Wool-Free Fire Retardant
Wool is a commonly used fire retardant among many mattress manufacturers. However, it's not a vegan or animal-friendly option, leaving out many customers who prefer the alternative options.
For this reason, Ergovea developed a wool-free proprietary fire-barrier product as a safe vegan alternative. This product exceeds the GREENGUARD GOLD standard emission tests, and abides by all federal flammability requirements. As a result, it is safe for use in your mattress and the environment.
20-Year Warranty
Ergovea provides a 20-year warranty for this mattress, covering twice more than most average mattresses.
Suitable For
If you're looking for a comfortable luxurious mattress, consider trying out this mattress.
Is it Worth It?
The Pasadena Organic Hybrid Mattress has a relatively fair price tag for mattresses of a similar caliber. As a result, it is a great option for anyone looking for a luxury latex mattress on a budget.
4. 
Latex For Less Hybrid Mattress - Best For Back Pain
Are you struggling with back pain while sleeping? If you answered yes to this question, you're not alone. Back pain is one of the common reasons for sleeplessness, which may progress into serious health issues.
Back pain has many causes, including a poor-quality mattress. Fortunately, this hybrid mattress from Latex For Less has an exceptional design, and is a perfect balance between comfort and support to keep your spine in proper alignment. As a result, It can significantly improve your back pain problems.
Key Features
Now, let's check out some of its most outstanding features:
Superior Support
One of the essential features of a good mattress is its support system. This mattress has a fabric-encased coil system crafted to provide you with the perfect buoyant support. As a result, the mattress contours your body perfectly, while also upholding your spine in its rightful position.
Three-Inch Layer of Certified Organic Latex
The latex hybrid mattress by Latex For Less has a three-inch layer of organic latex, giving you responsive support and pressure relief. Like the spring coils, this layer naturally molds your body's shape while sleeping to maintain proper spinal alignment. It also softly contours your pressure points to reduce pain and discomfort.
Ultra-Soft Organic Cotton Cover
Besides holding the mattress contents in place, the ultra-soft cotton cover promotes soothing sleep for a restful night. It also improves airflow, and keeps moisture away from your skin.
12 Inches of Thickness
Some thin mattresses lack adequate support. As a result, you may sink deeper into the mattress, pushing your spine out of its natural curve, and aggravating back pain.
On the contrary, thick mattresses have a robust support system. For example, this latex hybrid mattress by Latex For Less has an eight-inch fabric-encased support core, and a three-inch layer of latex foam. It also has half an inch of natural organic wool on each side of the mattress, totaling up to twelve inches of thickness.
Suitable For
This mattress best suits sleepers who struggle with lower back pain. However, it is also ideal for sleepers who want more comfort and cushioning for their bed.
Is it Worth It?
A supportive and comfortable mattress can significantly improve sleep quality, and reduce back pain. As a result, you'll save a lot of time and money on pain medications, and doctor's visits. Therefore, this hybrid latex mattress by Latex For Less is worth trying.
5.  
PlushBeds Eco Bliss - Best Budget Option
Product Description
PlushBeds Eco Bliss gives you a luxurious sleep experience at a pocket-friendly price, without compromising on its quality. The mattress consists of certified supportive poly foam, a natural latex layer, and an eco-friendly fire barrier layer. In addition, the mattress is wrapped in a super stretchy cotton cover that promotes uninterrupted sleep.
Key Features
The notable features of this mattress include:
Patented Supportive Polyfoam Core
PlushBeds uses a specially designed and patented poly foam for its support core. This foam resists sagging and dipping to ensure the mattress remains strong and durable throughout its lifetime, making it a great option for combo sleepers, as well as side sleepers.
By using their own patented and certified PlushFoam, PlushBeds eliminates the extra costs of outsourcing for expensive materials to make these hybrid mattresses. As a result, the mattresses are pure, comfortable, and affordable.
Patented Eco Fire Barrier
PlushBeds also uses a patented fiberglass-free fire barrier derived from natural plant fibers. Additionally, this barrier exceeds safety standards, making them eco-friendly, and safe for use. This innovation also eliminates the unnecessary expenses of outsourcing for expensive and contaminated materials.
Available in Different Thickness, Sizes, and Firmness Levels
In addition to affordable prices, PlushBeds offers three thickness options for this mattress.
These include:
An eight-inch mattress, consisting of six inches of PlushFoam support core, and a two-inch layer of Talalay latex foam.

A ten-inch mattress comprises seven inches of PlushFoam support core, and three inches of Talalay latex comfort layer.

A twelve-inch mattress, consisting of an eight-inch support core, and a four-inch Talalay latex layer.
These latex hybrid mattresses also come in six sizes, ranging from Twin to Cal King sizes, and can fit in most standard beds. In addition, the mattresses are available in Medium-Firm and Medium levels of firmness. The Medium mattresses are ideal for side sleepers who require more pressure relief.
On the other hand, the Medium-Firm alternatives are best for stomach sleepers and back sleepers because of their superior support.
Unrivaled Purity Certifications
PlushBeds ensures that its materials exceed the set purity standards from different regulatory bodies. This has earned the manufacturer many purity certifications that most competitors haven't achieved. For this reason, you don't have to be concerned about unsafe materials and harmful chemicals in your mattress.
These purity certifications include:
Global Organic Latex Standard (GOLS) for latex foam

Global Organic Textile Standard GOTS) for cotton and wool

GreenGuard Gold for non-toxic substances
Warranty and Shipping Information
The Eco Bliss Hybrid Mattress has a lifetime warranty, due to its durable natural materials. Additionally, it has a high-performance rate, and can last longer than three times as much as regular innerspring mattresses, meaning you won't need to replace it with a new mattress for many years.
But that's not all. In addition to its affordable prices, PlushBeds offers free delivery within the contiguous United States, and hassle-free returns during the 100 night sleep trial period.
Suitable For
The Eco Bliss has various options that suit several sleepers' needs. But most importantly, this durable mattress is suitable for sleepers who need a good quality mattress on a budget.
Is it Worth It?
Considering the affordable prices, performance, and durability, this mattress is worth every coin.
Latex Hybrid Mattress FAQs
Here are the answers to some of the common questions most sleepers ask about latex hybrid mattresses.
What Are the Benefits of Hybrid Latex Mattresses?
Hybrid latex mattresses have many benefits because of their unique structure. These benefits include:
Superior Joint and Back Support
The unique combination of coil springs and latex foams perfectly balances the comfort and support to cushion pressure points, while supporting proper spinal alignment. Latex hybrid mattresses are suitable for all types of sleepers, including combo sleepers.
Enhanced Breathability
Both latex forms and the pocketed coils system allow air to flow freely through the mattress to regulate your body's temperature while sleeping.
Pressure-Relieving Features:
The pocketed coils and the responsive latex form work together to gently contour pressure points, without losing your support.
Durability
Most hybrid latex mattresses last more than ten years, with premium quality ones lasting a lifetime.
Are Latex Hybrid Mattresses Worth It?
Although some latex hybrid mattresses are pricey, they are often worth every coin. These mattresses have a unique design that combines traditional innerspring mattress technology, and impeccable latex foam. As a result, they have many more benefits than regular mattresses.
For instance, the latex foam and innersprings work together to provide sleepers with responsive support, while gently contouring their pressure points. This creates a unique balance between support and comfort, a feat most conventional mattresses haven't achieved.
In addition, the inner springs give the mattresses edge-to-edge support, preventing them from sagging prematurely. Latex hybrid mattresses also contain some of the most durable and eco-friendly materials, such as organic cotton and wool. This makes the mattresses perform better, and last longer than most mattresses in the market, like innerspring mattresses.
Overall, latex hybrid mattresses appeal to many sleepers and their unique comfort needs, making these mattresses worth trying out, especially if they offer a decent night sleep trial.
What are the Drawbacks of a Hybrid Latex Mattress?
Some drawbacks of hybrid latex mattresses include:
Heaviness
Most hybrid latex mattresses are heavy because of their supportive coil systems, and the high density foam made from latex.
High Price Tags
Some hybrid latex mattresses are expensive because of the price of their raw materials. However, they're often durable and high-performing, making them a good investment.
What are the Factors to Consider When Buying a Hybrid Latex Mattress?
The market is flooded with wide varieties of hybrid latex mattresses. So, how do you find your ideal hybrid latex mattress?
Here are some things to consider when shopping for this mattress type.
Comfort and Support
Latex hybrid mattresses have different designs. However, these mattresses mainly consist of a supportive coil system, and a comfort layer. These parts work together to balance comfort and support perfectly. Therefore, you must understand how these parts work to select the ideal hybrid latex mattress.
For instance, if you struggle with lower back pain, you may want to avoid a buoyant hybrid latex mattress (often caused by a springy coil system). Instead, look for a mattress with a steadier support core that slightly conforms to your body weight to avoid sinking and misaligning your spine.
Materials
Hybrid latex mattresses contain other materials besides latex foams and coil springs. However, these materials vary from one mattress to another.
In addition, the materials also determine the mattress's durability and performance. You may also want to know if your new mattress is safe and eco-friendly.
Your Body Type
Your body type is also essential when determining the ideal firmness and thickness of your new hybrid latex mattress.
For instance, if you're a plus-size sleeper, you may need a firmer and thicker mattress to feel adequately supported. On the other hand, the same mattress may not work for you if you're petite. Instead, you'll need a softer and thinner mattress to give you adequate support, and cushion your pressure points, so you can sleep comfortably every night.
Price and Value
Hybrid latex mattresses tend to have varying price ranges to suit different budgets. However, it is advisable to compare the mattress value with their attached price tags to determine the best bargain.
For example, an expensive hybrid latex mattress may not necessarily be durable, high-performing, or suitable for your sleep needs.
Also, before purchasing the mattress, you need to consider other factors, such as the quality of the materials used, the mattress warranty, and performance.
On the other hand, a cheap hybrid latex mattress may not meet your expectations. Usually, such a mattress contains poor-quality materials, affecting its performance and durability. 
Is There a Best Time to Buy a Hybrid Mattress?
You can buy your favorite latex hybrid mattress at any time of the year, or whenever you need a new mattress. However, you can also look out for special sales days for offers and discounts.
Some of the best seasons to buy a latex hybrid bed are:
During Holidays
Many vendors offer discounted prices on holidays such as Labor Day, Independence Day, Thanksgiving, and Christmas. During this time, you can purchase your favorite latex hybrid mattress at an affordable price.
When Your Mattress is Old
When a mattress becomes too old, it no longer feels comfortable or supportive, and may cause several health issues. This may also be a good time to switch to a new latex hybrid mattress to improve your sleep quality.
During End-Of-Year Sales
You may also buy your favorite latex hybrid mattress during the end-of-year sales to take advantage of the numerous offers and discounts.
Can You Flip a Latex Hybrid Mattress?
Although a latex hybrid mattress is a flippable mattress, this is not always advisable, mainly because of its design. The supportive core is often the heavier part of the mattress, forming its bottom section, while the lighter comfort layer forms the top side. As a result, flipping this mattress can squash the comfort layer, and damage the mattress.
What is the Best Foundation Base for a Latex Hybrid Mattress?
Generally, hybrid latex beds need strong and stable foundation bases to perform well. In most cases, latex hybrid mattresses pair well with bunkie boards, solid-bases, and slatted bases. However, most mattress manufacturers have specific recommendations for foundation bases that best suit their hybrid latex mattresses.
Which is Better Between Latex and Memory Foam Mattresses?
A latex and memory foam mattress serves a unique purpose. On one hand, latex suits sleepers looking for an eco-friendly mattress with faster response time, and more bounce than traditional memory foam mattresses offer. On the other hand, memory foam is great for sleepers looking for deep compression support, motion isolation, and slower response time.