PlushBeds Wool Topper Review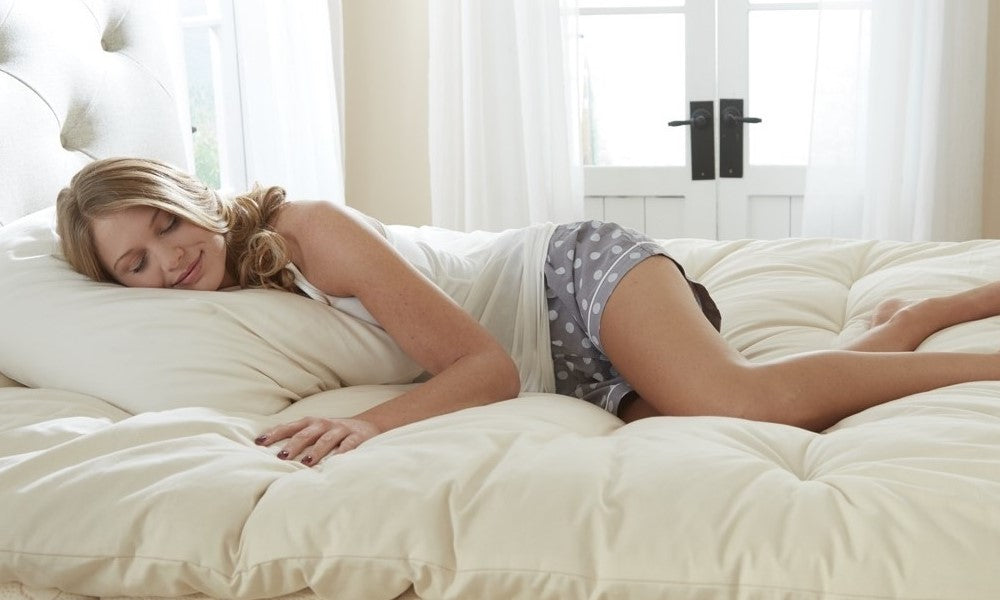 Toppers are great for altering the firmness level of a mattress on a budget. For instance, it may be too costly to replace a mattress you recently bought, but feels too firm, and triggers back pain. However, adding a soft mattress topper to the mattress can significantly improve your sleep quality.
PlushBeds' handmade natural wool topper takes things a notch higher. Besides altering the firmness of your bed, it soothes, regulates body temperature, and provides you with unmatched pressure relief.
In this PlushBeds wool topper review, we'll discuss the key properties of this luxurious topper that set it apart from the rest on the market.
So let's dive into the details...
Who is the Natural Wool Topper Ideal For?
Side sleepers
Eco-conscious consumers
Hot sleepers
Sleepers seeking pressure relief
Sleepers who share a bed with a partner or toddler
Features
The most notable features of PlushBeds' natural wool topper include:
100% Pristine Wool
If you're looking for a soft, chemical-free, and organic topper, your search ends here. The topper contains 100% ethically-sourced virgin wool, and does not contain chemical dyes or scouring agents. Instead, PlushBeds cleans the wool naturally, and uses it in its natural state, ensuring that you sleep on a healthy bed every night.
3-Inch Thickness
The natural wool topper entirely transforms your bed with its 3-inch loft. Firstly, this thickness is higher than the average thickness of a traditional topper, making it even more plush and luxurious.
Secondly, your body weight won't squash the topper, thanks to its springy texture. As a result, it'll add sufficient cushioning to your mattress to ease pressure on your joints, hips, neck, and shoulders.
Temperature Regulation
Sleeping hot disrupts sleep, and may trigger several sleep-related issues, such as insomnia. Fortunately, sleeping on a PlushBeds natural wool topper solves this problem. This is because wool has unmatched temperature-regulating abilities that prevent sleep distractions.
Wool fibers naturally wick sweat and moisture from the surface of your skin, and lock it away deep within its core. As a result, it maintains a layer of dry air between your skin and the topper, keeping you dry and comfortable all night.
Additionally, wool keeps you warm through the cold seasons by circulating warm air around your body through the fibers' tiny air pockets. For this reason, this topper works well all year round.
Soothing Comfort
Although the purpose of a mattress topper is to alter the firmness level of a bed, not all of them promote a longer REM sleep cycle and lower your heart rate to rest during sleep. This ability is unique to toppers made of natural wool-like PlushBeds natural wool toppers.
Sleeping on wool reduces sleep distraction by preventing a sleeper from tossing and turning frequently. For instance, you don't have to worry about sleeping hot, painful joints, cold, or allergic reactions while using a natural wool topper. As a result, your heartbeat drops to the resting level, while your body relaxes, allowing you to fall asleep easily.
In addition, the topper's organic cotton sateen cover soothes a sleeper's skin, and keeps them warm. It's free of scouring chemicals that cause skin irritation, or even allergic reactions, such as sneezing, running nose, and skin rashes.
Lastly, this topper has a generous amount of thickness that makes it feel luxurious. As a result, the topper cushions pressure points all over the body, making it ideal for all types of sleepers, including side sleepers.
These benefits promote a restful and rejuvenating sleep every night, making PlushBeds natural wool topper ideal for many sleepers.
GOTS-Certified Organic Cotton Sateen Cover
The organic cotton sateen cover feels soft, and is easier on the skin than its conventional alternative. And because it's free of harmful chemicals, it's healthy and suitable for sensitive sleepers.
Like wool, organic cotton is breathable, and wicks moisture away from a sleeper's body. As a result, it keeps your skin dry even during hot nights.
Hypoallergenic
PlushBeds natural wool topper contains hypoallergenic materials.
Natural wool and cotton resist bacteria, mold, dust mites, and other allergens. This makes the topper an excellent option for allergy-sensitive sleepers.
Firmness
This premium wool topper from PlushBeds doesn't have several firmness options. However, it makes up for that with generous loft and wool fill.
Additionally, it's handcrafted to ensure the wool doesn't move from one side of the topper to the other. As a result, the topper remains fluffy throughout its lifetime.
To put that into perspective, check out this topper's wool fill weights and sizes.
Twin size measuring 38 by 75 inches, weighs 12.5 lbs
Twin XL size measuring 38 by 80 inches, weighs 13.5 lbs
Full size measuring 54 by 75 inches, weighs 17 lbs
Queen size measuring 60 by 80 inches, weighs 20 lbs
King size measuring 76 by 80 inches, weighs 24.5 lbs
Cal King size measuring 72 by 84 inches, weighs 24 lbs
This allows the topper to cushion a sleeper's pressure points, while offering the right amount of give, without sinking excessively. In addition, this top-of-the-line topper is available in six different sizes, making it compatible with most standard-size beds.
Maintenance
The temperature-regulating wool topper is easy to maintain when properly used. For instance, you'll only need to keep the topper under a mattress protector or fitted bed sheets to protect it. In addition, you only need a soft brush and a mild detergent to spot-clean the topper.
Airing out the topper on a dry, sunny day refreshes the wool and cotton, enabling the topper to regain its loft. Because of the ease of maintenance, this high-end topper lasts several years.
Cruelty-Free Wool
PlushBeds sources its natural wool from ethical farmers who practice gentle flock management, ethical wool-shearing methods, and sustainable use of land.
Eco-Friendliness
This topper contains all-natural materials that are safe for the environment. In addition, it doesn't contain chemicals that emit smelly Volatile Organic Compounds (VOCs).
Handcrafted
The natural wool topper is made by hand from scratch. The craftsmen tuft the topper with natural wool, and hand-stitch it to prevent the wool from shifting within the topper. This makes it feel plusher than machine-made alternatives.
Conclusion
There's no doubt that the natural wool topper from PlushBeds has outdone the performance of regular toppers. This topper not only changes the firmness level of a mattress, but also comes with many additional benefits, such as temperature regulation, soothing sleep, and pressure relief.
And that's not all; the thickness makes the topper fluffy and plush. As a result, it cushions every contact point of the body, regardless of a sleeper's sleeping position. Not many toppers on the market can achieve this comfort level, which is why this particular topper stands out.