Best Shredded Latex Pillows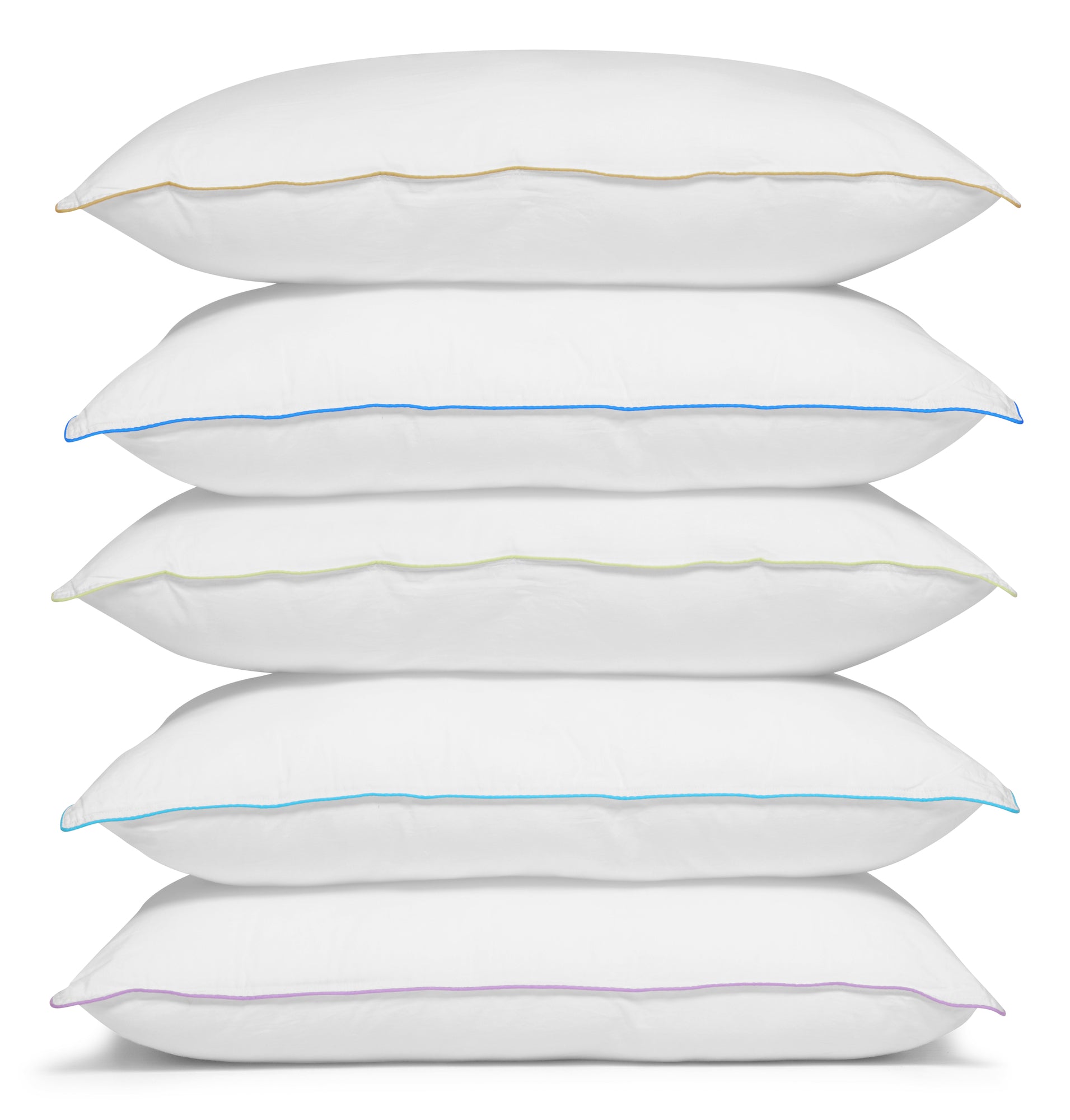 Latex pillows make great investments because they provide you with so many incredible benefits. They offer you outstanding support and cushioning, and they're durable and breathable. They're even antimicrobial and resistant to dust mites and mildew.
Latex pillows are recommended for sleepers who:
Are looking for natural materials:

Natural latex pillows are crafted from healthy materials.

Are looking for a hypoallergenic pillow:

If you suffer from allergies while you sleep, a hypoallergenic all-natural latex pillow will be a great fit, since it's resistant to dust mites and mold.

Looking for faster response time:

Latex pillows provide a high degree of support and bounce. A faster response time helps prevent that "trapped" or "stuck" feeling. It also adds extra support for deeper compression.
But have you ever heard of a shredded latex pillow, and what's the difference between a shredded latex pillow and a solid latex pillow? And, which ones are best?
Best Shredded Latex Pillows
Here are a couple of the best-shredded latex pillows to consider.
The Latex for Less Shredded Natural Latex Pillow
Soft, shredded latex mixes moldability and comfort of a standard pillow with the hypoallergenic nature and resiliency of botanical latex. To create the ideal softness and shape, you simple fluff up and smush your pillow.
Latex for Less's shredded latex pillow's fill is created by cutting the organic latex up into tiny pieces. This creates a filling that's consistent, and doesn't clump or shift, which results in soft, breathable, fast loft recovery.  Because of organic latex's naturally springy nature, this shredded organic latex pillow won't ever become lifeless and flat like standard pillows do, and will always maintain it's fluffy and soft feel.
Pillow Type:  Shredded Latex
Size: King, Queen, Standard
Features: Naturally hypoallergenic, naturally breathable, 100% natural latex, conforms to the shape of your head, free shipping, 5-year warranty
PlushBeds Organic Shredded Latex Pillow
PlushBeds organic shredded latex pillow is GOLS certified, which lets you know you're sleeping on clean and safe materials each night.
This organic shredded latex pillow is ideal for people who tend to fluff and mold their pillows. It's filled with small organic latex pieces that won't clump and shift. Plus the latex foam recovers quickly, where there's a release of pressure, and is breathable. It's resistant to mildew and mold, and is hypoallergenic. You'll be provided with an all-over pleasant and healthy experience each night.
PlushBeds pillows provide the bounce, moldability, and comfort of regular pillows with organic latex's hypoallergenic nature and resiliency.
Pillow Type: Organic Shredded Latex
Size: King, Queen, Standard
Features: GOLS certified organic Dunlop latex, Organic shredded latex, naturally hypoallergenic, no harsh chemicals or dyes, doesn't retain heat
Benefits of Shredded Latex
Shredded latex pillows are crafted with small pieces of shredding latex slabs. The cut-up pieces are resilient and flexible to conform to the contours of your body. You get various degrees of pressure point relief and support with shredded latex pillow's versatility. This allows you to enjoy deep, comfortable sleep.
Typically, standard latex pillows are crafted as a latex slab. They're crafted by using a pin-core design, allowing the pillow's pinholes to provide airflow, and prevent heat build-up.
Benefits of organic shredded latex pillows are:
They're the ideal alternative to pillows:

They are made through the inhumane treatment of animals (down) or those that use potentially harsh chemicals (memory foam).

They're quiet:

Latex doesn't rustle or creak like other pillow types. Their small latex pieces have an irregular shape, which allows airflow between them.

They're malleable:

You can fit a shredded latex pillow between your head and neck because you can squish it, which provides you with adequate support.

They're safe and clean:

They're ideal if you're looking to sleep on safe and clean materials.

They're healthy:

They're hypoallergenic and mildew and mold resistant, which provides you with comfortable, pleasant nights of sleep.
The Difference Between Solid vs Shredded Latex
When shopping for a great latex pillow, there are certain options you'll need to take into consideration:
With shredded natural latex, you're provided with the fluffiness and light feeling of regular down pillows, without the shifting or bunching. It allows you to sleep cool and cozy, and it never goes flat.
With solid natural latex, it cradles your head and neck gently, and provides pressure relief in any sleep position. It also provides you with soft, buoyant support throughout the night.
The main difference between the two is the density and pillow airflow. You typically get a denser, more pronounced feel with the solid latex pillow, whereas the shredded latex pillow is softer to the touch, and the shredded foam allows for more airflow, which helps limit heat retention, and provides better cooling.
Bottom line: Both pillow types are ideal for sleep. Both are plant-derived, 100% all-natural latex, with no fillers and chemicals. But if you like fluffing and adjusting your pillow, the shredded natural latex pillow is your best option.