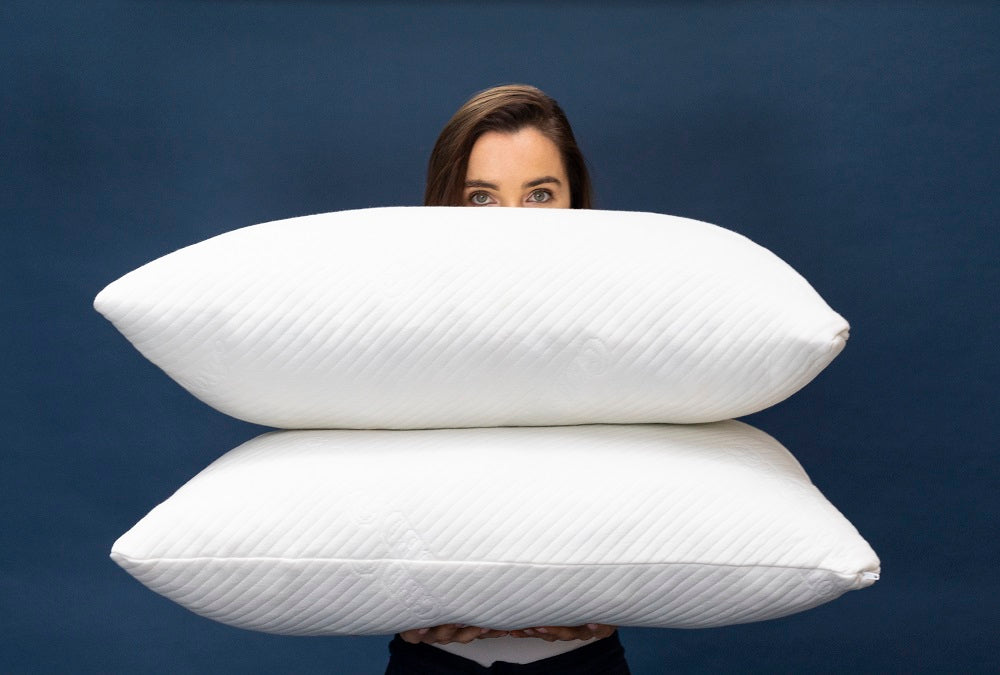 If you're looking to sleep well, and wake up feeling refreshed each morning, you will need the perfect cooling pillow. Similar to your mattress, the pillows you lay your head on at night also affect your sleep.
Pillows have various differences. The fill materials in pillows can cause them to feel differently. They also have various heights and firmnesses, similar to mattresses. And, don't forget about the price, which can be a big factor, depending on the type of pillow you choose.
With so many choices available for pillows, you might feel a little overwhelmed when you're shopping for one. Not to mention, not one pillow is perfect for everyone. You need to factor in things like:
Sleep position
Budget
Whether you sleep hot or not
Discomfort or pain (neck, back, etc.)
And more.
Cooling Pillow Features
Cooling pillows are designed to prevent heat retention. They provide a cool neutral sleeping surface. They are beneficial for those who sleep hot, experience night sweats, or are in perimenopause or menopause. If you're someone who "flips" your pillow at night to get to the "cool side", you'll likely love a cooling pillow.
Temperature affects sleep quality. If you sleep hot, you may overheat, sweat during the night, and wake up often, resulting in disrupted sleep. This may cause you to feel daytime sleepiness and overall fatigue. A cooling pillow can help improve your sleep quality, if you experience these sleep interruptions.
This guide will equip you with three top choices for cooling pillows, along with other features and benefits you'll want to look for in a pillow.
Top 3 Cooling Pillows
Each has its own set of benefits and features.
Natural Latex Pillow
Who it's Best For:
Those seeking the best cool sleep
People who like to adjust and fluff their pillow (shredded latex)
People who prefer to sleep on a soft, smooth surface that will conform to their head's shape (solid latex)
Those looking for soft organic cotton
Those who want to indulge in 100% Natural Latex
There are two options of comfort with the Latex for Less Natural Latex pillow, both of which are available in the standard, queen, and king sizes.
The shredded latex pillow

 

provides you with a fluffy and light feel, while…
The solid latex pillow

 

provides you with buoyant support.
Shredded Natural Latex Option
With the soft, shredded latex option, it combines a traditional pillow's moldability and comfort with botanical latex's hypoallergenic nature and resiliency. You can create the ideal softness and shape of your pillow by fluffing it up.
Solid Natural Latex Option
The solid latex pillow option offers your neck and head responsive support, no matter what sleeping position you're in. Solid latex is naturally springy, so it will conform to your body the minute you lie down. It also gives you adequate airflow, so you can stay sleeping cool during the night.
An organic cotton cover encases the natural latex, so you're provided with the perfect amount of support and comfort, while you stay cool all night. The natural latex of this pillow offers outstanding airflow, and is breathable all while you enjoy the soft feel of the organic cotton cover. This provides you an amazing sleep surface.
2. CarbonCool LT Pillow
Who it's Best For:
Those who sleep on their side
People who sleep hot and seek cooling properties
Those looking for memory foam's pressure-relieving benefits
Those who like aromatherapy scents
With a relaxing lavender aromatherapy scent, the CarbonCool LT Pillow offered by PlushBeds provides a unique shoulder recess made for side sleepers specifically. It helps cradle your head, and supports your neck.
The CarbonCool LT Pillow uses Omniphase® phase change, an advanced pillow-cooling technology. This offers you continuous temperature regulation with super airflow ventilation. When required, the phase change molecules collect, and release heat to ensure you're sleeping throughout the night in an optimal sleep temperature.
The foam is infused with activated carbon, to further the cooling properties, and create a pathway for filtering heat away from your face, head, and neck. You can now indulge in memory foam's pressure-relieving benefits while you sleep at the ideal temperature. There's also a TENCEL mesh cover, helping to create a humidity-free, smooth, soft surface that allows maximum Omniphase® coating exposure.
3. Zoned Gel Active Cooling Pillow
Who it's Best For:
For those looking for pressure point relief
For people seeking temperature regulation
For those who sleep hot
The Zoned Gel Active Cooling Pillow offered by PlushBeds is infused with a temperature-regulating gel. It helps to draw the heat away from your body, so you experience a more comfortable, cooler sleep.
You get outstanding support, and a quick-response feel of latex with the new ActiveDough®  foam, not to mention, the contouring and cushioning relief of memory foam provides you with a unique feel. Most sleepers of all preferences and styles like this pillow.
It's made with zoned technology that helps to relieve pressure points. The center of the pillow has bigger holes to cradle your head, and around the perimeter are smaller holes for supporting your neck. This pillow is silky soft, and has a TENCEL cover that provides you with all-season comfort because it regulates temperature.
How to Choose a Pillow
To find your perfect pillow, you need to take sleep preferences and other aspects of pillows into consideration. Besides looking at cooling pillow features, some other factors you can look for may include:
Sleep position:  The sleep position you prefer will impact which pillow you find comfortable. Back sleepers may prefer a flatter pillow, while stomach sleepers may want a softer pillow, or no pillow. Side sleepers may like a firmer or thicker pillow.
Price:

 

The pillow's construction and materials will typically determine the price. However, the price often ties in with quality, but you can still find some good pillows at prices you can afford.
Level of firmness:

 

Like with mattresses, there are different levels of firmness in pillows. Firmness impacts the way your pillow will feel, and how high it will hold your head.
Fill and fiber:

 

Pillows can be comprised of many different types of materials, such as latex, down, wool, memory foam, and cotton. The quality and weight of the fill also affect the pillow's comfort.
Allergies: If you're an asthma or allergy sufferer, you'll find numerous hypoallergenic pillows on the marketplace.
Pressure relief:

 

Pillows, like mattresses, can create pressure points, or relieve them.
These are only some of various factors to look into when choosing which type of pillow you'd like to rest your head on each night. Remember to assess your individual preferences.